INTRODUCTORY OFFER
BABYLOCK EUPHORIA COVERSTITCH MACHINE
UPDATE! 

We have made a seriously big order due to its massive popularity & because Babylock wont have it back in stock until late October! So just get in touch on one of the numbers below if you are interested.
We are SO excited to announce the brand new stunning Babylock Euphoria Coverstitch machine. It has JUST been launched in both the UK & America… click HERE to get a closer look!
????
It is the perfect complement to your overlocker or sewing machine. It creates professional finishes for all your garments, is perfect for active knitwear and even home décor projects.
Choose from a triple, wide or narrow cover stitch or chain stitch and easily finish your projects made from even the trickiest fabrics.
The Euphoria includes ExtraordinAir® Threading, which threads the chain looper with just the touch of a button. With Automatic Thread you can thread the needles in any order and be ready to stitch with no tension adjustments, making it such a DREAM to use!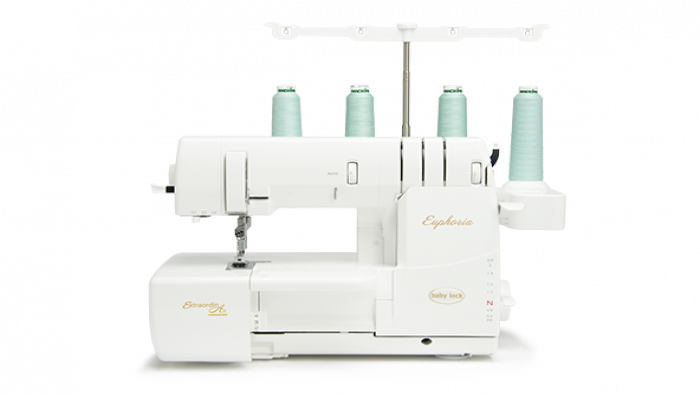 Just some of the fantastic innovative features included:
⭐️
ExtraordinAir Threading
⭐️
Built-In Needle Threader
⭐️
5″ to the Right of the Needle
⭐️
No Tension Adjustments
⭐️
1,500 Stitches Per Minute
We have them in stock, and you can get it for £1,689!
We offer free next day delivery everywhere in the UK (usually with you within 24 hours!) 
If you have any questions, or would like to place an order, just call us on 01313 313 1002 or 0131 539 7766!