We had the delight today to have Jean and Patricia fly up from London (they were excited and up at the crack of dawn with a 5am alarm).
They both had 1 on 1 lessons for the day with our sewing tutors, Jean on the left has the Janome 9400 and Patricia has the Janome Atelier 6, both wonderful machines!
It is always great to have customers come up to visit that live so far away, and they are now safely on their route back to the airport!
Embroidery foot #24
We
love

the Free Motion Embroidery Foot #24 because:
It has a clear view of the embroidery area

You can be very creative with free motion embroidery

You can do contour quilting, free-motion quilting and micro-stippling.

For monogram, silk-ribbon and Richelieu embroidery and thread painting

You can buy this lovely foot now and get 15% off making it now only:
Foot #24 – £32.89
And Foot #24V – £23.37
Click

here

to see a video showing this foot in action.
---
Patchwork foot #37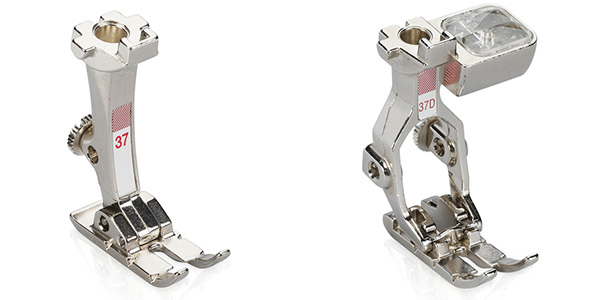 We also
love

Patchwork foot #37 because:
When you are creating patchwork with a 3mm or 6mm seam allowance, it will keep you accurate

There are three notches on the side for precise guidance
You can also get 15% off this foot making it now only:
Foot # 37V – £27.62
And foot # 37D – £29.75
Click

here

to see a video showing this foot in action.
Just give us a call or pop into the shop to order both of these feet!
*Offer ends Friday 4th October 2019!*